I was born in the early eighties in an Italian country town, I grew up in the midst of vineyards, vegetable gardens and dismantled engines. I come from a family of hard workers and I learned early from my father to hold every type of tool in my hand, as a child I built wooden machines and disassembled (and reassembled) bicycles.
I don't remember exactly when I first thought that music was a great thing, but I remember that in 1995 my cousin, who lived across the street, had a very powerful stereo and above all a splendid Gibson Les Paul.
At 14 years old music became an indispensable thing in my life and like many teenagers I studied guitar and started playing with friends.
At that time, for every 20 guitarists there were 2 bass players and 1 drummer: the need therefore led me to embrace an electric bass, initially I borrowed it, then I built one: it was the first musical instrument that I made.
Years go by and I enrolled in university: course of studies in industrial design. These years have been fundamental for my training as a luthier, because I learned about the production processes and the design stages, I knew the materials and processes of a product. I lived for 5 years in a fantastic environment, surrounded by friends who are passionate about the most varied forms of creativity.
Towards the end of my studies, I realize that guitars don't just come out of factories, but that there are also craftsmen who manage to live building splendid musical instruments. So I decide to go and meet one: I choose it at random, from the yellow pages and the next day I go to his laboratory: the luthier is Dario Pontiggia.
Dario immediately proves to be very kind and begins to tell me the story of Antonio De Torres. After an hour of conversation I understand that this job is "what I want to do when I grow up".
Today I'm grown up and I'm a professional luthier, guitars have become my life. I have built many: they are the result of the passion and study of the great guitar makers of the past. These same guitars today are around the world and are played now in various continents: this is the aspect that makes me most proud of my work.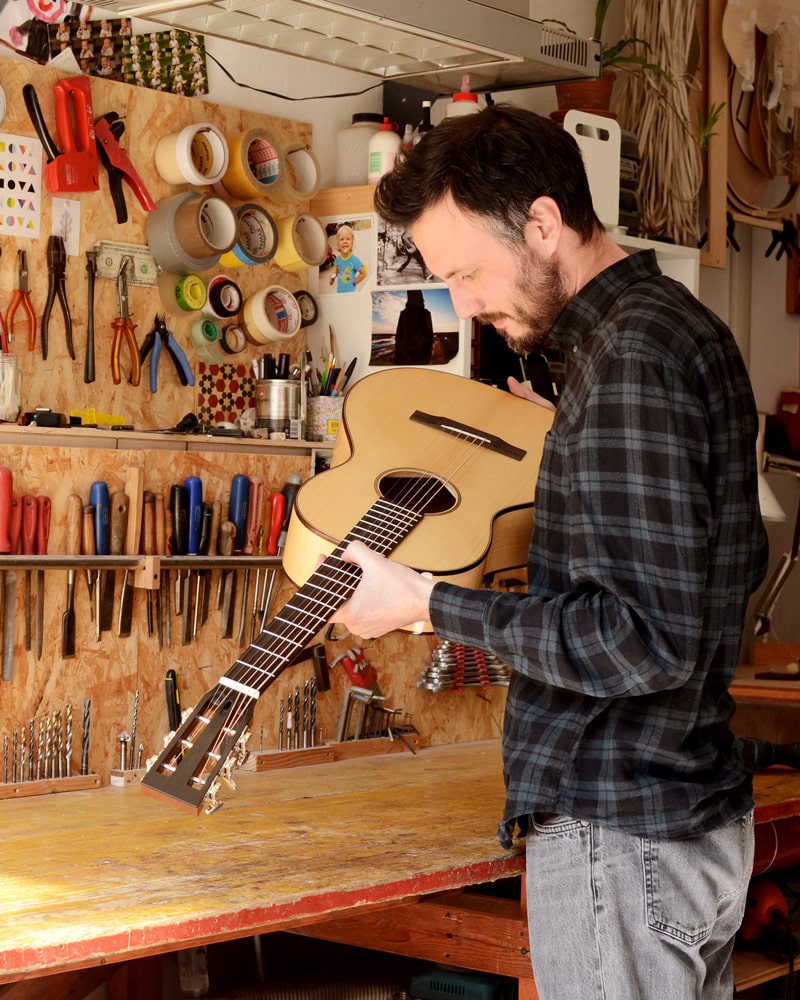 Wish
All the sawdust left
from the worked wood is in a little pile.
If you pass your finger through it
you leave a road
made as it comes to you.
You drew one with bends and
hairpin turns, off-road too, with
holes and trees to bar it, few
straight lines, often slight slopes and a downhill,
maybe two.
A long road with many
cat's eyes to pay attention to,
full of traffic lights which are
only green, and if any one's yellow,
pass by quickly.
You also put
roundabouts with 10, 100, 1000 exits –
you came across one:
will you turn around
until your head spins
or will you choose to follow
the road
made by your finger?

Piero Simon Ostan, 2010
Augurio
Tutta la segatura avanzata
dal legno lavorato fa un mucchietto.
Se ci passi il dito sopra
esce una strada
da fare come ti viene.
Ne hai segnata una con curve e
tornanti, sterrata anche, con
buche e alberi a sbarrarla, pochi
rettilinei, spesso i falsi piani e
discese, forse un paio.
Una strada fonda con tanti
catarifrangenti per farci attenzione
riempita di semafori che facciano
solo il verde, al massimo arancioni
per passarci via spediti.
Ti è venuto anche da metterci
rotonde con 10, 100, 1000 uscite
ne hai incontrata una:
ci giri intorno
finché gira la testa
o scegli di andare
per la strada
fatta col tuo dito?